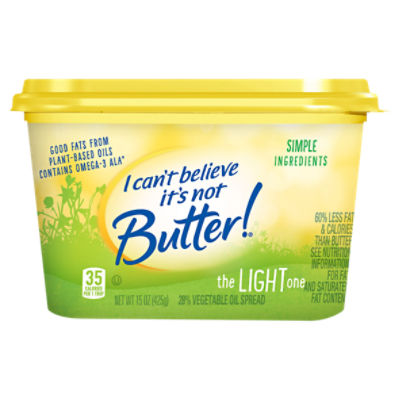 I Can't Believe It's Not Butter! The Light One, 28% Vegetable Oil Spread, 15 Ounce
Sale Information
On Sale!
Sales price valid from 9/25/2022 until 10/1/2022
Description
I Can't Believe It's Not Butter! The Light One 28% Vegetable Oil Spread, 15 oz Good fats from plant-based oils contains omega-3 ALA* *Contains 190mg of omega-3 ALA per serving (11% of the 1.6g daily value) 80% less saturated fat than butter† †Total fat is 4g per serving. Delicious buttery taste! Made with a Delicious Blend of... Oils, Purified Water & a Pinch of Salt Per serving ICBINB! Light: Calories 35; Sat. Fat: 1g Butter: Calories 100; Sat. Fat: 7g
Ingredients
Purified Water; Soybean Oil; Palm Kernel and Palm Oil; Salt; Lecithin (Soy); Mono and Diglycerides; Vinegar; Natural Flavors; Vitamin A Palmitate; Beta Carotene (Color);
Nutrition Facts
30 servings pr container
Product Number: 00040600387187
Sale Information
On Sale!
Sales price valid from 9/25/2022 until 10/1/2022
Description
I Can't Believe It's Not Butter! The Light One 28% Vegetable Oil Spread, 15 oz Good fats from plant-based oils contains omega-3 ALA* *Contains 190mg of omega-3 ALA per serving (11% of the 1.6g daily value) 80% less saturated fat than butter† †Total fat is 4g per serving. Delicious buttery taste! Made with a Delicious Blend of... Oils, Purified Water & a Pinch of Salt Per serving ICBINB! Light: Calories 35; Sat. Fat: 1g Butter: Calories 100; Sat. Fat: 7g
Product Number: 00040600387187
Ingredients
Purified Water; Soybean Oil; Palm Kernel and Palm Oil; Salt; Lecithin (Soy); Mono and Diglycerides; Vinegar; Natural Flavors; Vitamin A Palmitate; Beta Carotene (Color);
Nutrition Facts
30 servings pr container
Product Number: 00040600387187