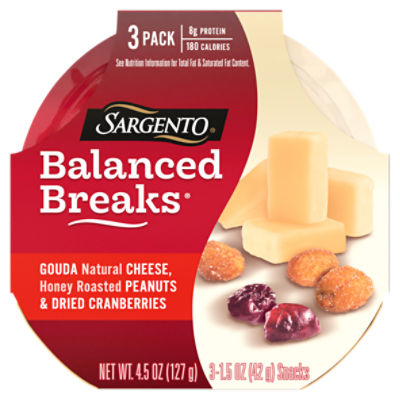 SARGENTO Balanced Breaks Snacks, 1.5 Ounce
Sale Information
On Sale!
Sales price valid from 10/2/2022 until 10/8/2022
Description
SARGENTO Balanced Breaks Snacks, 1.5 oz, 3 count Gouda Natural Cheese, Honey Roasted Peanuts and Dried Cranberries This snack is something special. We paired creamy, buttery Gouda with sweet, crunchy honey roasted peanuts and tart dried cranberries for protein to keep you going and flavor that keeps you smiling, Convenient individual-sized snack trays come in a 3-count package, each containing less than 200 calories per servings and 8 grams of protein. (See nutrition info for total fat and saturated fat content. Not a low calorie food.) Gouda Natural Cheese, Honey Roasted Peanuts & Dried Cranberries Snacks
Ingredients
Gouda Cheese [Pasteurized Milk, Cheese Culture, Salt, Potato Starch (to prevent caking), Enzymes, Annatto (Vegetable Color)]; Dried Cranberries (Cranberries, Sugar, Sunflower Oil); Honey Roasted Peanuts [Peanuts, Sugar, Honey, Vegetable Oil (Peanut and/or Sunflower Seed), Salt, Modified Potato Starch, Maltodextrin, Xanthan Gum];
Nutrition Facts
3 servings pr container
Product Number: 00046100019122
Sale Information
On Sale!
Sales price valid from 10/2/2022 until 10/8/2022
Description
SARGENTO Balanced Breaks Snacks, 1.5 oz, 3 count Gouda Natural Cheese, Honey Roasted Peanuts and Dried Cranberries This snack is something special. We paired creamy, buttery Gouda with sweet, crunchy honey roasted peanuts and tart dried cranberries for protein to keep you going and flavor that keeps you smiling, Convenient individual-sized snack trays come in a 3-count package, each containing less than 200 calories per servings and 8 grams of protein. (See nutrition info for total fat and saturated fat content. Not a low calorie food.) Gouda Natural Cheese, Honey Roasted Peanuts & Dried Cranberries Snacks
Product Number: 00046100019122
Ingredients
Gouda Cheese [Pasteurized Milk, Cheese Culture, Salt, Potato Starch (to prevent caking), Enzymes, Annatto (Vegetable Color)]; Dried Cranberries (Cranberries, Sugar, Sunflower Oil); Honey Roasted Peanuts [Peanuts, Sugar, Honey, Vegetable Oil (Peanut and/or Sunflower Seed), Salt, Modified Potato Starch, Maltodextrin, Xanthan Gum];
Nutrition Facts
3 servings pr container
Product Number: 00046100019122