dairy
Cream & Creamers (2)
Search results
Wholesome Pantry Organic Half & Half, one quart, $4.99
No Added Hormones and No Antibiotics*n* No Significant Difference Has Been Shown Between Milk Derived from rBST-Treated and Non-rBST-Treated Cows.nnNo Toxic Pesticides†n† USDA Organic Standards Prohibit the Use of Pesticides Harmful to Human Health.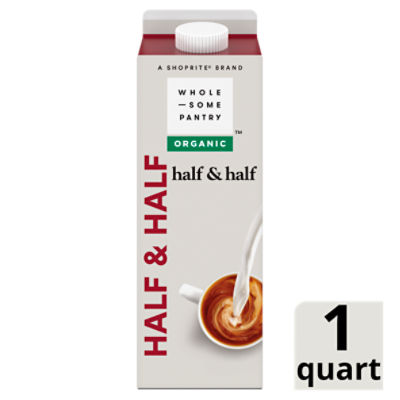 Organic
Keto Friendly
Kosher
Wholesome Pantry Organic Half & Half, one quart
Open Product Description
Organic Valley Ultra Pasteurized Organic Half and Half, 16 oz, $3.49
Organic Valley Ultra Pasteurized Organic Half and Half, 16 oz Organic is always non GMO® Stir in Some Love Wake up your morning brew and enrich your favorite recipes with our delicious half & half. It's a wholesome mix of organic milk and cream from the pastures of our family farms. Always Handled with Care 57 Quality Checks We ensure your half & half arrives tasting as fresh as it can be. Always Organic and Non-GMO We never use: GMOs, antibiotics, toxic pesticides or synthetic hormones. Humane Animal Practices Our organic animal care focuses on holistic health practices, including daily doses of sunshine, fresh air and pasture. The Pasture-Raised Difference More time on pasture means our cows' milk naturally delivers omega-3 and CLA.* Keeping Chemicals Out of Your Food We believe our farms, our food and our families shouldn't be chemistry experiments. *This half & half contains an average of 32mg omega-3 and 22mg CLA per serving. Organic Valley Ultra Pasteurized Organic Half and Half is made with pasture raised milk and organic cream for a rich flavor. This silky coffee creamer makes your morning brew and other beverages smooth and creamy. Our Organic Valley half and half is made with milk from small family farms, where cows roam and graze on lush organic pastures, giving you a delightfully creamy flavor. Use this delectable organic creamer to turn your coffee, tea or hot chocolate into a special treat, or use it as a substitute for milk to add some richness to your favorite baked goods. This coffee creamer has an easy-pour cap, making it simple to add the perfect amount to your favorite beverage.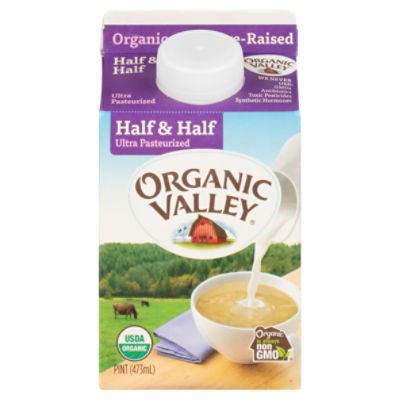 Organic
Keto Friendly
Halal
Organic Valley Ultra Pasteurized Organic Half and Half, 16 oz
Open Product Description