frozen
Frozen Appetizers & Snacks (1)
Search results
PERDUE® Individually Frozen Chicken Wings, 3 lbs., $10.99
Raised right in America, with No Antibiotics Ever - PERDUE® Individually Frozen Chicken Wings are an easy, gameday favorite you can feel great about feeding your family! Chicken Wings are loved by home cooks for their rich flavor, versatility, and crispy skin. Whether you fry, barbeque, grill, or roast them, our wings do not disappoint! At PERDUE, we're hungry for better chicken and that means paying attention to all of the details, no matter how big or small. We believe our practices - like providing healthy feed and a happy environment for our chickens - lead to better-tasting chicken. And we think you'll agree: take one bite and taste the difference that comes from our relentless pursuit of better-tasting chicken.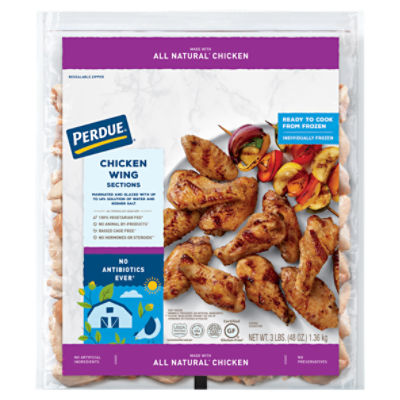 Gluten Free
No Artificial Ingredients
PERDUE® Individually Frozen Chicken Wings, 3 lbs.
Open Product Description