Search results
Downy Ultra Liquid Fabric Conditioner (Fabric Softener), Free & Gentle, 60 Loads 51 fl oz, $4.49
No dyes, no perfumes, no worries: Downy Fabric Conditioner is hypoallergenic and dermatologist-tested—perfect for those with sensitive skin. Made with the same Downy conditioning protection you know and love, Downy Free & Gentle helps prevent clothes from stretching, fading, and fuzz. So you can enjoy a gentler, scentless softness for all your fabrics.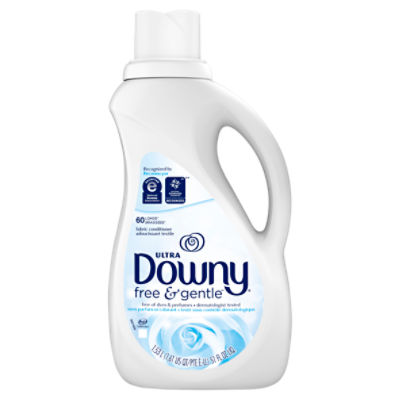 Downy Ultra Liquid Fabric Conditioner (Fabric Softener), Free & Gentle, 60 Loads 51 fl oz
Open Product Description
Seventh Generation Liquid Fabric Softener Lavender, 32 oz, 42 Loads, $6.99
Seventh Generation Fresh Lavender Scent Fabric Softener, 32 loads, 32 fl oznSeventh Generation Lavender Fabric Softener leaves your clothes soft and fresh. Our concentrated formula uses a plant-based laundry fabric softener to reduce static cling and soften your clothes. Our fabric conditioner is free from animal derived ingredients, dyes and synthetic fragrances. We never test our products on animals, and our products are certified cruelty-free by the Leaping Bunny Organization. For the best results, use this liquid fabric softener with Seventh Generation laundry detergent.nAt Seventh Generation, we do business differently. We believe our products are healthy solutions for use within your home-and for the community and environment outside it. Our company is always evaluating how to reduce their environmental impact, increase performance and safety, and create a more sustainable supply chain. We also believe it is our responsibility to set a course for a more mindful way of doing business, where companies act as partners with other stakeholders to create a brighter future for the whole planet. Seventh Generation is proud to be a Certified B Corporation. B Corps are certified to be better for workers, better for communities, and better for the environment. By choosing Seventh Generation laundry soap and fabric softener products, you're joining us in nurturing the health of the next seven generations.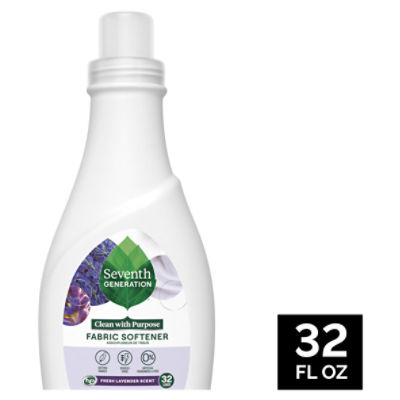 Seventh Generation Liquid Fabric Softener Lavender, 32 oz, 42 Loads
Open Product Description