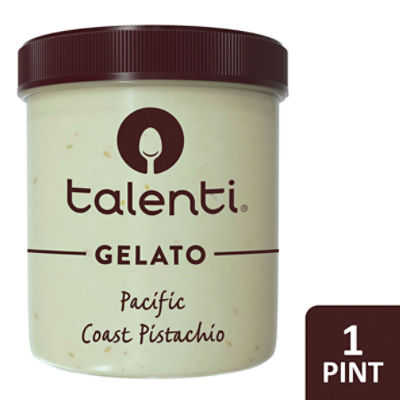 Talenti Gelato Pacific Coast Pistachio 1 pint
$5.90
was $5.99
$0.37/fl oz
Sale Information
On Sale!
Sale price valid from 3/26/2023 until 4/1/2023
Description
Talenti Gelato Pacific Coast Pistachio 1 pint If you're looking for delicious, you've found the perfect frozen gelato dessert. Talenti Pacific Coast Pistachio Gelato is our unique take on one of our favorite childhood treats. Previously called Sicilian Pistachio, we use the same delicious recipe but now with pistachios from California because we let the simplicity of the best ingredients shine through! We start with fresh milk and pure cane syrup, followed by blending our pistachio butter into sweet cream gelato. We then add dry-roasted California pistachio pieces and slow-cook the gelato to slightly caramelize the flavors for a one-of-a-kind experience - making this gelato indulgent, creamy, crunchy, and with a pure pistachio flavor. At Talenti, we believe that only the best process and ingredients result in delicious gelato and sorbetto. That's why we source the highest-quality ingredients from all around the world and use a slow-cooking method (similar to how French chefs use a bain-marie water bath technique) for our frozen dessert. Then we package our products in clear, BPA-free jars that are all made from 100% recycled materials and can be recycled and reused any way you like. Please note that Talenti jars are not microwave- or dishwasher-safe. For clever ideas on how to reuse the pint, check out #Pintcycling on Instagram. In addition to Talenti Gelato, Talenti has Dairy-Free Sorbetto, Organic Gelato, and Gelato Layers - 5 layers of the ultimate indulgence flavors - to fit all your frozen dessert needs. All of our products are made with non-GMO sourced ingredients that have been evaluated by Where Food Comes From, Inc., and adhere to our Non-GMO Sourced Standards. Check out Talentigelato.com/nongmo to learn more. Talenti also does not use high fructose corn syrup in any of our frozen dessert products. Try all our flavors and discover what makes Talenti so special. Recipe No. 15 Dry roasted California pistachios and pistachio butter carefully blended into fresh milk and cream
Ingredients
Milk; Sugar†; Cream; Pistachios; Dextrose†; Carob Bean Gum; Natural Flavor; Vanilla Extract; †Non-GMO;
Nutrition Facts
servings pr container
Product Number: 00186852000372
Sale Information
On Sale!
Sale price valid from 3/26/2023 until 4/1/2023
Description
Talenti Gelato Pacific Coast Pistachio 1 pint If you're looking for delicious, you've found the perfect frozen gelato dessert. Talenti Pacific Coast Pistachio Gelato is our unique take on one of our favorite childhood treats. Previously called Sicilian Pistachio, we use the same delicious recipe but now with pistachios from California because we let the simplicity of the best ingredients shine through! We start with fresh milk and pure cane syrup, followed by blending our pistachio butter into sweet cream gelato. We then add dry-roasted California pistachio pieces and slow-cook the gelato to slightly caramelize the flavors for a one-of-a-kind experience - making this gelato indulgent, creamy, crunchy, and with a pure pistachio flavor. At Talenti, we believe that only the best process and ingredients result in delicious gelato and sorbetto. That's why we source the highest-quality ingredients from all around the world and use a slow-cooking method (similar to how French chefs use a bain-marie water bath technique) for our frozen dessert. Then we package our products in clear, BPA-free jars that are all made from 100% recycled materials and can be recycled and reused any way you like. Please note that Talenti jars are not microwave- or dishwasher-safe. For clever ideas on how to reuse the pint, check out #Pintcycling on Instagram. In addition to Talenti Gelato, Talenti has Dairy-Free Sorbetto, Organic Gelato, and Gelato Layers - 5 layers of the ultimate indulgence flavors - to fit all your frozen dessert needs. All of our products are made with non-GMO sourced ingredients that have been evaluated by Where Food Comes From, Inc., and adhere to our Non-GMO Sourced Standards. Check out Talentigelato.com/nongmo to learn more. Talenti also does not use high fructose corn syrup in any of our frozen dessert products. Try all our flavors and discover what makes Talenti so special. Recipe No. 15 Dry roasted California pistachios and pistachio butter carefully blended into fresh milk and cream
Product Number: 00186852000372
Ingredients
Milk; Sugar†; Cream; Pistachios; Dextrose†; Carob Bean Gum; Natural Flavor; Vanilla Extract; †Non-GMO;
Nutrition Facts
servings pr container
Product Number: 00186852000372