Search results
PANTENE PRO-V Repair & Protect Shampoo, 23.6 oz, $7.99
PANTENE PRO-V Repair & Protect Shampoo, 23.6 oznHARD WORKING, LONG LASTING nYour haircare should work as hard as you do. Pantene PRO-V Repair & Protect Shampoo cleanses damaged hair to remove build up, repair signs of damage and prime strands for optimal nourishment. This paraben free shampoo contains 2x more nutrients and no harsh stripping for nourishment in every wash, with 72+ hours of strand protection when used with Repair & Protect Conditioner. This cleansing shampoo is safe for colored hair and crafted with protective anti-oxidants, strengthening lipids, and pH balancers, leaving you with strong and healthy strands. With Pantene Pro-V Repair & Protect Shampoo, say goodbye to damaged strands and unleash soft, hydrated hair that looks and feels beautiful for longer. nn2X MORE NUTRIENTS, LASTS FOR 72+ HOURS nThis Pantene PRO-V Repair & Protect Shampoo is designed to be used with our complete Repair & Protect Collection to infuse your hair with optimal hydration and 2x more nutrients. These powerful Repair & Protect formulas work together to permeate every strand, fighting damage where it starts and deeply nourishing hair from the inside out for protection that lasts 72+ hours without washing. These formulas are crafted with Pro-V nutrients, Pro-Vitamin B5, and pH balancers, and made without parabens or colorants.nnTO USEnMassage Pro-V Shampoo into your hair, making sure to pay special attention to your scalp. Rinse thoroughly. For best results, follow with Pro-V Repair & Protect Conditioner. This color-safe shampoo is gentle enough for everyday use on chemically-treated hair or color-treated hair, and gives you results that last for 72+ hours without washing.
PANTENE PRO-V Repair & Protect Shampoo, 23.6 oz
Open Product Description
Nexxus Therappe Shampoo Ultimate Moisture 13.5 oz, $15.99
Nexxus Therappe Moisture Shampoo for dry hair leaves hair revitalized without weighing it down, giving hair flexibility and suppleness. Salon-crafted with Nexxus' exclusive Caviar & Protein Complex, this silicone-free shampoo has a lightweight formula that nourishes hair and delivers deep hydration. Moisture Shampoo's ability to lock in moisture helps you get beautiful hair that retains its natural movement, making Moisture Shampoo an ideal way to begin treating dry hair. Repairing hair is a multi-step process. For best results, use the Nexxus Therappe Moisture Shampoo with a conditioning treatment from the Nexxus Humectress Ultimate Moisture Collection for an ideal moisturizing shampoo and conditioner pair. To use, apply Moisture Shampoo to damp hair, massaging into a rich lather before rinsing thoroughly. Follow with a conditioning treatment - for everyday use, smooth the Nexxus Humectress Conditioner onto wet hair and wait 3 minutes before rinsing. For a deeper treatment, press the Nexxus Humectress Hair Masque into damp hair, comb through, and rinse thoroughly after 3-5 minutes. A leader in salon-quality hair products, Nexxus uses learnings from science and nature. We know that hair is made of almost 90% proteins, which is why we use advanced scientific methods to identify the protein needs of each hair type and create customized formulas with proteins to bring your hair back to life.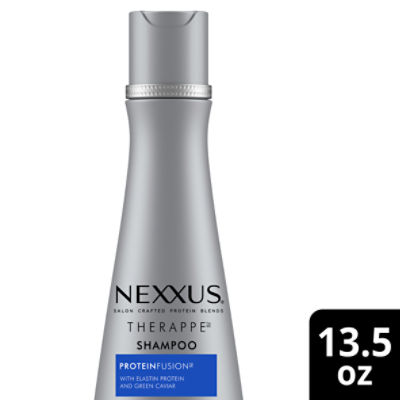 Nexxus Therappe Shampoo Ultimate Moisture 13.5 oz
Open Product Description