Search results
Pepperidge Farm Garlic Bread, 10 oz, $4.29
Mouth-watering garlic bread is just moments away! It all starts with amazing bread (and our Pepperidge Farm bakers know bread!), topped with great flavors from premium ingredients like garlic and parsley. Pop it in the oven and in about 8 minutes, you'll have delicious garlic bread with a golden crust on the outside, soft inside, and the aroma of delicious garlicy fresh bread goodness filling the room. Convenience and freshly baked from your oven come together for a perfect meal solution for your family. For Pepperidge Farm, baking is more than a job. It's a real passion. Each day, our bakers take the time to make every cookie, pastry, cracker, and loaf of bread the best way they know how - by using carefully selected, quality ingredients.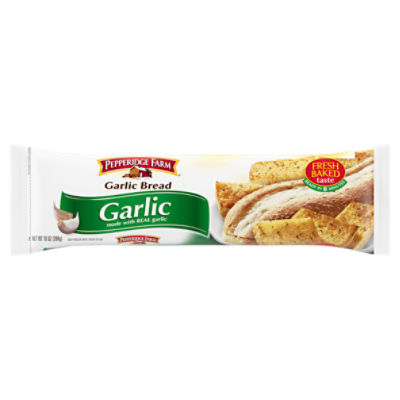 No High Fructose Corn Syrup
Pepperidge Farm Garlic Bread, 10 oz
Open Product Description
Furlani Garlic Texas Toast, 6 count, 8.46 oz, $2.69
Don't you love it when the family's excitement grows at the mention of Furlani coming to the dinner table? The smell of freshly baked Garlic Texas Toast wafting through the kitchen, distracts everyone even before the meal is ready. Texas style, thick sliced toast, crisped to perfection for an amazing crunch, coated with delicious garlic spread. That's 40 years of perfection in the making. The perfect pairing with sandwich fillings and pastas!
No High Fructose Corn Syrup
Furlani Garlic Texas Toast, 6 count, 8.46 oz
Open Product Description