Search results
Brunckhorst's Boars Head Imported Switzerland Swiss Cheese, 7 oz, $7.99
Gold Label Imported Switzerland Swiss® CheesennMilk from Cows Not Treated with rBST*n*No Significant Difference Has Been Shown Between Milk from rBST Treated and Untreated Cows.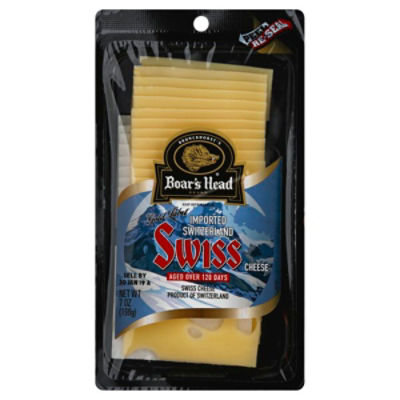 Lactose Free
Keto Friendly
Brunckhorst's Boars Head Imported Switzerland Swiss Cheese, 7 oz
Open Product Description
SARGENTO Swiss Natural Cheese Ultra Thin® Slices, 18 slices, $3.99
Thinly sliced without sacrificing the signature flavor, this Sargento® Swiss Natural Cheese adds a deliciously mellow, nutty flavor to sandwiches like Reubens and ham and cheese as well as burgers and all your favorite wraps and paninis. This convenient packaged cheese is ideal for packing in the cooler for tailgate parties, picnics and road trips.
SARGENTO Swiss Natural Cheese Ultra Thin® Slices, 18 slices
Open Product Description